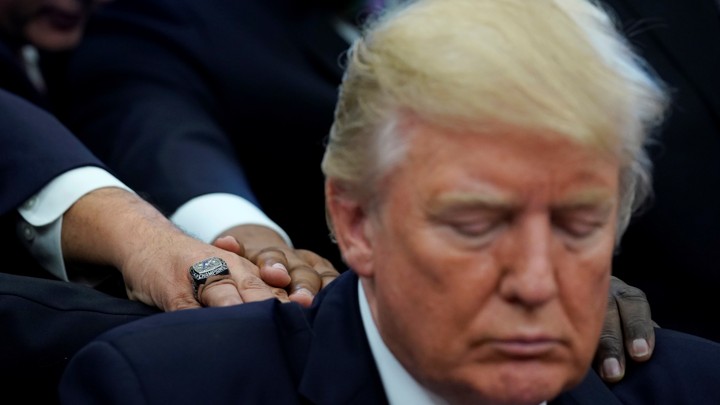 Emma Green
The Atlantic
Originally posted August 18, 2019
Ben Howe is angry at evangelicals. As he describes it, he is angry that they didn't just vote for Donald Trump in record numbers, but repeatedly provide moral cover for his outrageous failings. He is angry that leaders of the religious right, who long claimed to be the champions of American morality, appear to have gladly traded their values for power. He is angry that Christians claim they support the president because they want to end abortion or protect religious liberty, when supporting Trump suggests that what they really want is a champion who will mock and crush their perceived enemies.
To redeem themselves, Howe believes, evangelicals have to give up their take-no-prisoners culture war.
This is the story Howe, a writer and pundit, tells in his new book,
The Immoral Majority
—the title aptly riffs on the Moral Majority, the 1980s-era Christian political machine created by the influential pastor Jerry Falwell. Right-wing Christianity is Howe's native territory: He grew up attending Falwell's church in Virginia, Thomas Road Baptist Church, down the street from Liberty University, where Howe's father, a Southern Baptist pastor, taught classes. In other years, Howe's family attended First Baptist Church in Dallas, which is now pastored by one of Trump's most vocal supporters, Robert Jeffress. After being raised in the bosom of the religious right, Howe went on to become a filmmaker, a Tea Party activist, and a blogger for the conservative website RedState, where he spent a not insignificant portion of his time trolling progressives. He was later fired from that website, along with other writers, because of his vocally anti-Trump views, he claims. (Rosie Gray wrote about the purge for
The Atlantic
in the spring of 2018.)
The interview is here.