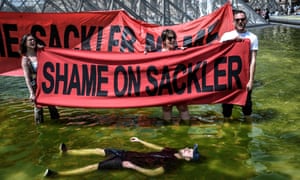 Chris McGreal
The Guardian
Originally published September 17, 2019
If only we could feel Purdue Pharma's pain.
The directors and owners of the company that did so much to create America's opioid epidemic are professing distress and bewilderment at the rejection of what they claim are its good faith efforts to help the victims.
Even as Purdue announced plans late Sunday night to file for bankruptcy, its top officials were making unctuous claims that their concern was to combat an epidemic that has claimed more than 400,000 lives. Anyone who stood in the way was depriving suffering Americans of the help they need, they claimed.
Members of the Sackler family who own Purdue have offered to turn over the company to a trust which would funnel future earnings to treatment and other measures to deal with the tragedy. They would also sell Mundipharma, a British-based sister company, and hand over the payment. The Sacklers even said they would give up a part of the huge profits of OxyContin, which made the family multibillionaires.
Some of the state attorneys general and cities suing Purdue have accepted the deal as the best prospect for getting anything out of the company and said the bankruptcy filing was part of the arrangement.
Other attorneys general rejected the move, claiming it was an attempt by Purdue's owners and executives to hang on to the bulk of the profits of drug dealing and buy their way out of individual accountability. Some of those states are also suing the Sacklers directly.
The info is here.