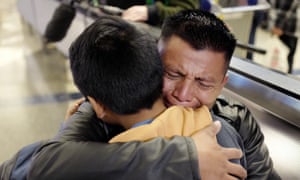 Amanda Holpuch
theguardian.com
Originally posted 25 Feb 20
Here is an excerpt:
Legal experts have argued family separation constituted torture, but this is the first time a medical group has reached the determination.
PHR volunteer psychiatrists evaluated 17 adults and nine children who had been separated between 30 to 90 days. Most met the criteria for at least one mental health condition, including post-traumatic stress disorder, major depressive disorder or generalized anxiety disorder "consistent with, and likely linked to, the trauma of family separation", according to the report.
Not only did the brutal family separation policy create trauma, it was intensified by the families' previous exposure to violence on their journey to the US and in their home countries of Honduras, Guatemala and El Salvador.
All but two of the adults evaluated by PHR said they had received death threats in their home countries and 14 out of the 17 adults said they were targeted by drug cartels. All were fearful their child would be harmed or killed if they remained at home.
Almost all the children had been drugged, kidnapped, poisoned or threatened by gangs before they left. One mother told investigators she moved her daughter to different schools in El Salvador several times so gang members couldn't find her and kill her.
The info is here.