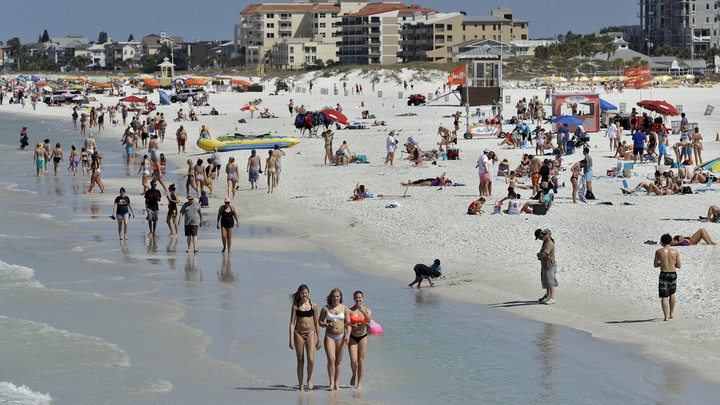 Yascha Mounk
The Atlantic
Originally posted March 19, 2020
Here is an excerpt:
There are at least three straightforward explanations.
The first has to do with simple ignorance. For those of us who have spent the past weeks obsessing about every last headline regarding the evolution of the crisis, it can be easy to forget that many of our fellow citizens simply don't follow the news with the same regularity—or that they tune into radio shows and television networks that have, shamefully, been downplaying the extent of the public-health emergency. People crowding into restaurants or hanging out in big groups, then, may simply fail to realize the severity of the pandemic. Their sin is honest ignorance.
The second explanation has to do with selfishness. Going out for trivial reasons imposes a real risk on those who will likely die if they contract the disease. Though the coronavirus does kill some young people, preliminary data from China and Italy suggest that they are, on average, less strongly affected by it. For those who are far more likely to survive, it is—from a purely selfish perspective—less obviously irrational to chance such social encounters.
The third explanation has to do with the human tendency to make sacrifices for the suffering that is right in front of our eyes, but not the suffering that is distant or difficult to see.
The philosopher Peter Singer presented a simple thought experiment in a famous paper. If you went for a walk in a park, and saw a little girl drowning in a pond, you would likely feel that you should help her, even if you might ruin your fancy shirt. Most people recognize a moral obligation to help another at relatively little cost to themselves.
Then Singer imagined a different scenario. What if a girl was in mortal danger halfway across the world, and you could save her by donating the same amount of money it would take to buy that fancy shirt? The moral obligation to help, he argued, would be the same: The life of the distant girl is just as important, and the cost to you just as small. And yet, most people would not feel the same obligation to intervene.
The same might apply in the time of COVID-19. Those refusing to stay home may not know the victims of their actions, even if they are geographically proximate, and might never find out about the terrible consequences of what they did. Distance makes them unjustifiably callous.
The info is here.