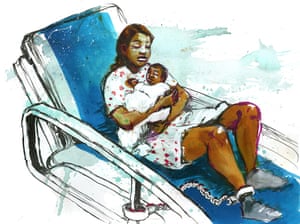 Lori Teresa Yearwood
theguardian.com
Originally posted 24 Feb 20
Here is an excerpt:
To convolute matters more, the federal government does not require prisons or jails to collect data on pregnancy and childbirth among female inmates. A bill introduced in September 2018 would have required such data collection. However, no action was taken on the bill.
Even the definition of shackling varies. Some states, such as Maryland and New York, ban all restraints immediately before and after birth, though there are exceptions in extraordinary circumstances. Other states, such as Ohio, allow pregnant women to be handcuffed in the front of their bodies, as opposed to behind their bodies, which is thought to be more destabilizing.
Then there is the delineation between shackling during pregnancy, active delivery and postpartum. Individual state laws are filled with nuances. As of 2017, Rhode Island is the only state that has what is called "a private right of action", an enforcement mechanism allowing the illegally shackled woman to sue for monetary compensation.
The one constant: the acute psychological trauma that shackling inflicts.
"Women subjected to restraint during childbirth report severe mental distress, depression, anguish, and trauma," states a 2017 report from the American Psychological Association.
"Women who get locked up, tend on average to have suffered many more childhood traumas, says Terry Kupers, MD, a psychiatrist and the author of the book Solitary: The Inside Story of Supermax Isolation and How We Can Abolish It. He implores prison staffs "to be very careful that we do not re-traumatize them. Because re-traumatization makes conditions like post-traumatic stress disorder much worse."
Amy Ard, executive director of Motherhood Beyond Bars, a not-for-profit in Georgia, worries that the trauma of shackling takes a toll on the self-image of new mothers. Inevitably, this question looms in the minds of the women Ard works with: if I am someone who needs to be chained, how can I expect to also see myself as someone capable of protecting my child?
The info is here.