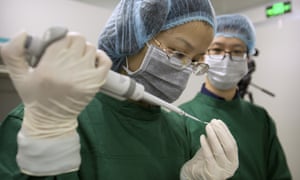 Agence France-Presse
Originally posted January 21, 2019
A second woman became pregnant during the experiment to create the world's first genetically edited babies, Chinese authorities have confirmed, as the researcher behind the claim faces a police investigation.
He Jiankui shocked the scientific community last year after announcing he had successfully altered the genes of twin girls born in November to prevent them contracting HIV.
He had told a human genome forum in Hong Kong there had been "another potential pregnancy" involving a second couple.
A provincial government investigation has since confirmed the existence of the second mother and that the woman was still pregnant, the official Xinhua news agency reported.
The expectant mother and the twin girls from the first pregnancy will be put under medical observation, an investigator told Xinhua.
The info is here.